PLEASE watch this video. It's only a minute long.
I can't let "National Adoption Month" wrap up without a comment or two. We have had a great adoption month at our house. Some highlights: I presented a class and helped organize our annual adoption conference at the beginning of the month.
I had a fun lunch visit with Sambo's birthmom and family earlier this month as well. We had a great talk over lunch about how we have all achieved the "best possible outcome" (her husband's words) through this adoption experience. I couldn't have said it better and felt so proud and so thankful that they feel that way too. We just love our little baby boy (our 5-year old baby) so much and what an honor to know they love us too. We're planning another visit/birthday party for Sambo in the next few days. Every time we see her my heart nearly bursts. Sambo came from a wonderful soul. He is just like her all the way from their big sparkly brown eyes to their joy from simple things.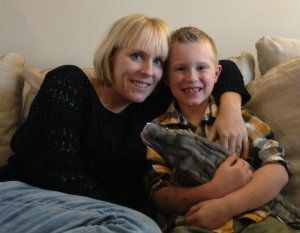 Last week we were in Utah for Thanksgiving and had the great privilege of hanging out with Buddy's birthmom twice. We happened to be there on his and her birthdays, so we had a party for each of them. Several months ago when Buddy learned we'd be in Utah on his birthday, he suggested we go to the dinosaur museum with his birthmom for his birthday. I offered to text her to line it up, but he suggested he call her right then to ask her about it. He had never called her before, so imagine her surprise to get a call from him asking her to hang out with him on his birthday. I love that he is now old enough to call the shots in his open adoption.
So that's what we did. We went to the museum then had lunch. Her sister and nephews came too. Buddy and his birth-cousins are so much alike, it's just mind blowing. I have a strong feeling they will be lifelong friends and probably roommates at BYU one day. I seriously have never seen him so blissfully happy as he was talking to his little friend about dinosaurs and animals and all things science-related.
A few days later was her birthday, so her wonderful husband organized a birthday party for the two of them at their new house. All of her siblings, their children, her parents, and a friend, all came to see us. Plus this time G's parents and two sisters came too to meet everyone. We've had parties like this with them several other times, but they keep getting better. Buddy is his very best self. He's confident and funny and walks around like he owns the place. His birth family worships the ground he walks on. And he feels the same way about them. He is gracious, and shows off, and asks for what he wants without shame, and says what he feels. They treat him like gold. Truly, it's the way all children should be treated.
Apparently while at their house, Buddy asked his birthmom why her daughter didn't have a picture of HIM in her room. I was not aware of this until i got a text about it today. A picture text of a picture of him now in her room. The point is, Buddy feels so confident in his role in their life that he can ask anything. Just as his birthmom doesn't want to be forgotten in our home, he doesn't want to be forgotten in theirs. Yet most adoptees do not have that reassurance that they were/are wanted, thought about and prayed for. I am so glad both my boys know. And when in doubt, they feel comfortable asking.
I had a friend say it this way: there is my side of the family, my husband's side of the family, and each child's side of the family. That's exactly what this is and it's really great. Just more people to love and be loved by.
I just typed 5 different sentences trying to articulate how awesome this is, and there really are no words. None of us could have predicted this. When we met Buddy's birthmom more than 9 years ago, we weren't allowed to tell her which suburb we lived in or what our last names were. My how things have changed. These open adoptions are the greatest blessing of my life. G and I keep saying, "Can you believe this is our life? All this love for our children. We didn't know love like this existed." Buddy's birthgrandma commented on a facebook picture of our visit and articulated it the best, "Wonder of wonder, miracle of miracles." That's what our relationship is.
I am so thankful and happy to have two wonderful birthmoms in my life. My two brave partners in motherhood.