My parents took us and my brother's family on the Polar Express to the North Pole for a Christmas present. They planned everything and we just showed up which was so nice! Plus my parents had gift bags full of treats for all of us to enjoy on the ride. I'm not sure who had more fun, me, or the kids! I would highly recommend this activity. It put me right into the Christmas spirit. The only thing that would have made it better was to have my sister and her family with us.
We took a 90-minute train ride and the entire experience was just like the book. They even read the book on the train and my dad had brought a copy, so we could read along. At the halfway point, they slowed the train as we passed through the North Pole so we could see Santa waving and so we could see his reindeer grazing. As we rode by Santa, Buddy said, "I sure feel sorry for that poor guy standing out there in the cold and rain." Ironically, we had just finished reading the book -- the entire point being that we have to keep believing. I literally couldn't stop laughing for awhile. As excited as Buddy was to be having this experience, he couldn't get past the logic (per usual).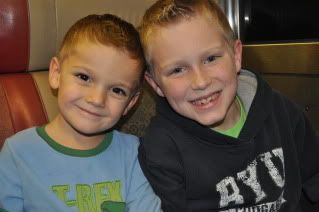 All the cousins love Buddy. I love this picture.
In addition, the conductor punched their golden tickets, elves walked the aisles of the train, they passed out hot chocolate and a cookie. Santa visited with each child and gave them a magic bell. It was really cool.
Another highlight was when Sambo told the Elf he wanted a "ballerina" and Legos for Christmas. We all laughed and laughed and teased him a little. (Don't worry, he knows we love him and accept him, and support him no matter what he likes.) When I started asking questions (because if Santa is going to learn about the ballerina, Santa better deliver) we felt sort of sheepish when we realized he had actually said "Battle Arena."
Even Buddy sat on Santa's lap!
Then after the train ride we went to dinner. After dinner G went to the counter and tried to buy two gourmet donuts. But the cashier gave them to him for FREE. Are you kidding me? I love donuts and a free donut is just about the best thing ever. And it turns out the donut was the best I've ever had in my life.