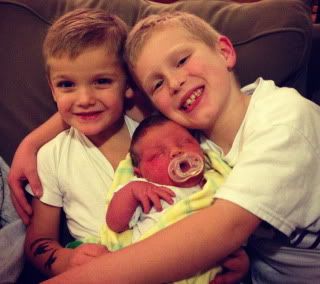 I'm a mother of THREE BOYS. I'll write the whole story later, but for now, enjoy a picture of our big boys meeting their baby brother for the first time. Our newest baby boy was born Friday, December 14th and we brought him home Sunday.
His arrival in the midst of national tragedy and mourning reminds me that God is good and miracles still happen. So many people have called and emailed and texted to tell me (with tears in their eyes) that his arrival has been the only good thing to happen lately.
It's true. Raising children and keeping them safe and feeling loved is so incredibly overwhelming. Nobody has any good news. It's always more pain and suffering all the time. And just when we had just about lost all hope, he came. We got a Christmas miracle for the third time. I've been trying to hold him as much as possible and enjoy this holiday season for what it is -- a celebration of the first Christmas miracle, Jesus' Birth. I've been trying to chase away worry and doubt about the future with feelings of peace. Because I have truly never been this happy in my entire life. I wish I could bottle this joy up and keep him little forever. This is such a good life I have. I'm so thankful.
Merry Christmas everyone! We will share lots more details later.